WHAT?
This project is used to realize a census and feasibility studies for re-qualification of open spaces along Olona river, in order to have a planning useful for the participation to a competition that finance the interventions.
With this project we would like to extend relationships, agreements and partnerships which, thanks to a lot of help, we managed to create.

WHO?

Municipal administration of Legnano, Canegrate, San Vittore Olona, Parabiago and Nerviano.
Partners: Coldiretti Milano and Lodi, Olona river Consortium, Legambiente of Parabiago and Nerviano, LIPU of Parabiago, Cultural Association "La Zuppiera" of S. Vittore Olona, Agenda 21 Parabiago, Ecomuseum of the Landscape of Parabiago, cultural association "Assesempione" of San Vittore Olona, Olona Viva, Nerviano Viva, Anabasi Nerviano association, Olona's Valley agricultural district .
Owners: San Vittore Olona, Canegrate, Parabiago and Nerviano municipality, Giuseppe Vezzini, Pierangelo Banfi, Ianomi S.p.A, Marazzini S.p.A.
Technical partners: Ecomuseum of the Landscape of Parabiago, Ubistudio Milano and IRS Milano.
WHEN?
In 2011 we made the map of the natural and cultural heritage of park's communities. The planning has been made during the year 2012 and until February 2013. On 6th January 2013 the Olona River's Agreement was signed. Now the realization of the Olona River's Agreement is in progress.
WHER
E?



1) CENSUS AREA




Click to zoom
2) FEASIBILITY STUDIES AREAS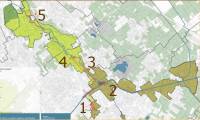 Cllick to zoom
1.

S.Vittore Olona's moat

2.

Areas near the purification plant of Canegrate

3.

Parabiago's Isolino

4.

(a/b) Parabiago's municipality's agricultural areas

5.

Areas near the purification plant of Nerviano

6.

Parabiago and Nerviano

7.

Old Wood | Canegrate's Biopark

8.

Foppa of San Vittore Olona




9.

Legnano's Castle area



HOW?
The project permitted to reconstruct ecological network and cycle and pedestrian way along rivers' banks, territorial system's actions like the use of cultural heritage to environmental, economic and local-social development and the creation of a food farming system.
In this way it was constituted a wider network, which managed to relate public services, associations, citizens, farmers, and economics operators that live, act and benefit from the territory.
A "Territory Project" was born, able of dealing and supplementing physical, management and procedural aspects and able to bring together the general interests with the needs of private citizens.
ACHIEVED RESULTS
Some evident results were already produced:
Cultural and Natural Heritage's inventory reported on the parish map, the re-opening and the re-use of Parabiago's Riale, for naturalistic and educational purposes, cleaning activities to remove rubbish and exotic species from Parabiago's Isolino and from Legnano's Castle, re-population of fish in the river, the placement of artificial nests in favor of birds and academic and didactic activities connected, the work team for water's quality of the river and the large quantity of cultural initiatives to take back people near the river are all samples of how, with the participation of a valuable network of actors, could be possible to realize projects and initiatives of re-qualification and environmental protection, giving value to the available resources.
FEASIBILITY STUDIES AND OLONA RIVER'S ACTION PLAN
The Olona river's plan was signed in June 2013. Now, its realization is underway.

Go to the dedicated page to see the drafts
MAP IDENTIFIER